In the 1920's Henry Holloway owned a silent movie theater named
The Gem Theater
in St. John, which is a municipality located in St. Louis County. Henry employed his brother-in-law, Oliver Buhrman, and several other family members. Henry and Oliver decided to publish a weekly flyer to inform all the local residents of the upcoming movies to be played. Immediately other local businesses wanted to advertise in the weekly flyer. Henry and Oliver decided this publication could be a standalone business in the community. Oliver went on to learn about printing and publishing while Henry stayed in the movie theater business.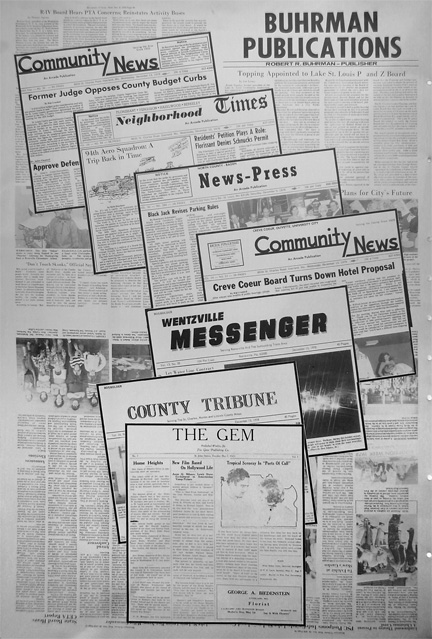 After several weeks Oliver changed the name of the flyer to the Overland-St. John Community News. Over the next several decades the Community News grew, and added a small sheet fed printing business. Printing was limited to business cards, letterheads, envelopes and wedding invitations. Oliver jobbed out the printing of his newspaper. Oliver's son, Robert (Bob) Buhrman, joined his father in business in the mid 1940's. In the 1960's other local newspapers were purchased and the company incorporated under the name of Arcade Printing & Stationary Inc. Oliver died in 1969. Bob continued growing the business by purchasing other local weekly free distribution papers and starting several local papers. By the end of the 1970's Bob was publisher of Buhrman Publications which published the…
Baden News Press

Ferguson – Florissant Neighborhood Times

Overland – St. John Community News

Creve Coeur – Olivette Community New

St. Charles Community News

O'Fallon County Tribune

Wentzville Messenger
These papers had a combined weekly distribution of 200,000 in north St. Louis and
St. Charles counties.
In the 1970's, newspaper inserts for advertisers were becoming more popular and gained frequency as opposed to display ads in the papers. The company had several weekly customers that were already designing and printing their inserts through Buhrman Publications. Also in the 1970's Bob was joined by his three sons: Gary, Terry and Scott.
In 1981 Bob sold his newspapers to his largest competitor and Bob retired. The three sons decided to keep the sheet fed printing business going and expand on the newspaper insert
business. The sons incorporated under the name of Arcade Printing Company. Within one year the insert business grew enough for Gary, Terry and Scott to purchase their first 3 web offset printing units and folder. By 1985 other units were purchased along with 2 acres in Vinita Park. Construction was completed on a 12,000 sq. ft. building in September 1985. By 1987 another 12,000 sq. ft. addition was added along with more printing equipment. In 1988 Arcade Printing Company purchased all of the assets of Monarch Printing Company from Wetterau Foods. In 1994 a heat set printing press was added. In 1997 another 12,000 sq. ft addition was added along with more heat set presses.
Scott Buhrman is the current owner of the company.